The basement build-out at the Old Island Lifestyle Community is now complete. We wrapped it up over a week ago and have moved on to a project for the City of Kingsport and an outdoor living area in Bristol, Tennessee. As soon as the homeowners complete their decorating and placing their furnishings, we will be taking pictures and posting to our Portfolio page.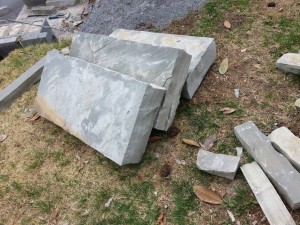 The outdoor living space in Bristol is well underway with the limestone walls and fireplace almost complete. The picture to the left is the heavy limestone slabs that will be the steps leading to the patios (a main patio and a smaller upper patio).The Pennsylvania Lilac stone for the patios will be delivered mid-week as we continue to move forward. This is truly going to be the swan song to this renovation project. The homeowner has previously done a complete restoration of this 1920′s house with much attention to detail.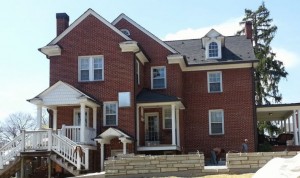 The project also includes widening a shared driveway, laying a limestone wall in front of the house, and capping the chimney and adding historic chimney pots.